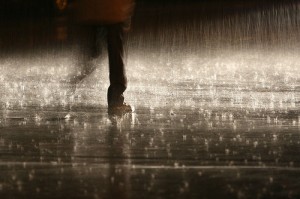 Finally! It seems like forever since my last marathon -- Mississippi River Marathon three weeks ago. But it's Friday afternoon, I'm off work, and the weekend has begun! Little Rock Marathon weekend that is. But crazy as it seems, there's a lot of tension and fear and trepidation and nerves and sadness and worry because it might just rain on us Sunday. Last week I tried to convince everyone not to worry, but that post didn't seem to stop folks. So I'm trying again.
The other day I read what might have been the best advice ever for running in the rain. It was on the Conway Running Club's Facebook page when a runner asked for tips on surviving a rainy race day. The best I saw was from a long time runner who said, "Remember when you were a little kid who loved running in the rain, whose parents had to tell to get in out of the rain? Be that little kid!" Best advice ever. Heed it if we're wet on Sunday!
But just in case you don't find that as easy to do as I find it to tell you, here's another tip that came to mind. After checking the weather forecast when I got home and finding it unimproved from when I last checked it an hour ago, an old song came to mind, a song I remembered singing from my childhood. It seems to me this will be the perfect song to sing for 26.2 wet miles on Sunday if the forecasters actually do have it right.
Raindrops Keep Falling on My Head
, by BJ Thomas, with lyrics.
Listen to the words of the song..."There's one thing I know. The blues they send to greet me won't defeat me," and take them to heart! Keep them in your heart and pass them through your lips on Sunday if it rains on us. Regardless of the weather, this is going to be a great race. We're going to have a great time.
If you're going to run marathons, you're going to face all sorts of challenges. The weather is one of those, and it's one we can't control. But we don't have to let it control us either. We sign up for these races many months in advance, sometimes plan them for even longer than that. We train forever just to be ready on race day. There's no way we can predict the weather that far out.
So we choose the race. We pay our money. And we train. Always hoping for the best weather, the perfect conditions to run in. But there's just no way to guarantee we'll have even decent weather to run in. No guarantee at all. But we don't have to be miserable about it. Embrace it. Become that little kid again, if only for the few hours it takes to finish.
And remember the source of true happiness, the source of the strength it takes to get through tough situations...
12 I know what it is to be in need, and I know what it is to have plenty. I have learned the secret of being content in any and every situation, whether well fed or hungry, whether living in plenty or in want. 13 I can do all this through him who gives me strength. ~ Philippians 4:12-13
We'll get through Sunday's Little Rock Marathon, rain or shine. We'll get through it because Jesus brought us to it, and He will bring us through it. It might not be your best finish time, but if you choose to make it so, it can be a fun time, regardless of the weather.
See you Sunday, with a smile on my face. And I just might be singing, "Raindrops are falling on my head..."
---
If you don't know Jesus as your personal savior, if you're missing the faith, hope, and love written about here, if you want the peace that we as Christians have in our lives, please visit our
Got Jesus?
page for step-by-step instructions on how to accept Jesus Christ as your personal Savior.