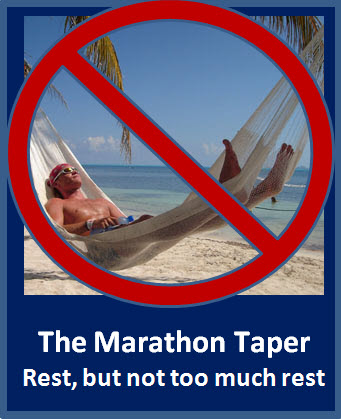 Sunday's my normal day off from running, but this Sunday it's even more important to take a rest from running. A rest from running usually means a day off from working out altogether, but not today. You see, I have this Janathon challenge thing going on all month, the challenge to work out every day and blog about it.
The rest from running is called "the taper" in marathon speak. It's meant to rest your muscles so they're fresh and ready for the big race. Different people have different strategies for tapering, some lasting three weeks, some two, and maybe some only one. The taper usually involves a significant decrease in mileage, progressively fewer as the big day approaches.
Like in so many other things I do, my taper is pretty unique. I don't follow a plan someone else came up with. It's all based on running 40 -- 45 miles per week. The way I figure it, and there's no scientific study I know of to back this up, if my body's accustomed to running 40 -- 45 miles each week, I'm going to keep running that, every week up to and including race week, with the marathon finishing out those weekly miles. This mileage limit isn't something I came up with entirely on my own though. Instead, it's what God has revealed to me is right for me to do His will. In the past, when I've tried to push my weekly mileage beyond this range, I've fallen to injury. When I tried to get by with less, my race performance suffered. So I see this taper system more of something God led me to than something I just came up with on my own.
I still do a two-week taper, cutting back the first week, not on miles, but on effort. All my runs two weeks out are easy runs, no speed work, no hill repeats, or anything else that adds lots of stress to the miles. Marathon week is when I cut back on miles (and effort). This week I plan to run three times -- Tuesday, Wednesday, and Thursday -- 6 miles each day for a total of 18 pre-race miles. By the end of the race, my weekly mileage will fall nicely into my weekly range, just under 45 total miles for the week.
Usually, my off days are off days, even during the taper, but like I said...Janathon. So I have to do some sort of workout when I'm not running to uphold my commitment to the challenge. So this morning, I did about 18 minutes with Shaun T, the warmup and stretching portion of one of his Insanity videos. Worked up a good sweat, and I really think the stretching will be good for me come race day.
We'll see anyway. But don't expect to read about too many runs this week, since it's taper time.
4 Show me your ways, Lord, teach me your paths. 5 Guide me in your truth and teach me, for you are God my Savior, and my hope is in you all day long. ~ Psalm 25:4-4
I spent most of my life, really only until the last few years, always trying to do everything on my own. I never sought help from anyone, not even God. I'm still guilty of that from time to time, but I'm so grateful that I finally learned I can really do nothing with Him. If it's not His will, and not in His plan, it doesn't matter what I attempt, I won't be successful.
He made it clear that He will only let me run if I do so for His glory. Before I listened to His call, before I believed that little voice inside my head that Jesus used to explain that to me, I bumped along in my running, never really accomplished much, never found much success, and never really improved. Even after I recognized and started trying seek His will in my running, trying to run for His glory, I slipped back several times and began to run for my own pride and pound my chest so that I might glory in my accomplishments.
Those times, Christ warned me, then made Himself clear when I wouldn't return to what He had called me to do. Injuries, unexplained injuries, struck to humble me and remind me that my running is to serve Him.
So I am indebted to Jesus Christ for dying on the cross so that I can have eternal life. I'm indebted to Him because He gives me the motivation, the desire, and the strength to run. For I know, without a doubt, that I can't make it one step, not one mile, not one race except for the grace and mercy of Jesus Christ.
So show me the way Lord, and soften my heart so that I follow your will and guidance and not my own foolish mind and heart.
---
If you don't know Jesus as your personal savior, if you're missing the faith, hope, and love written about here, if you want the peace that we as Christians have in our lives, please visit our
Got Jesus?
page for step-by-step instructions on how to accept Jesus Christ as your personal Savior.