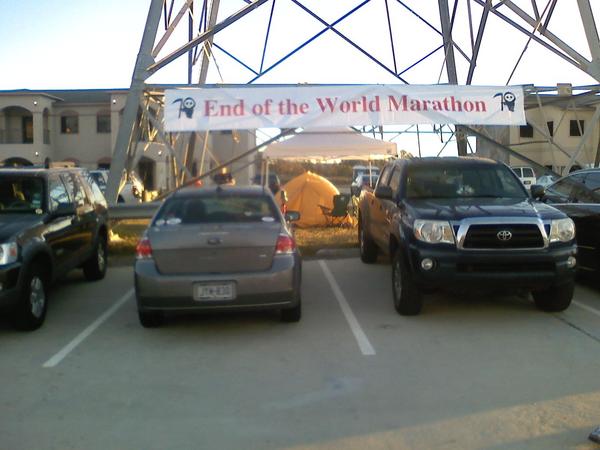 Here it is, finally. The race recap everyone thought they may never see...I mean...the world was supposed to end that day, right?
On Friday, the last day on the infamous Mayan calendar, we decided to run the End of the World Marathon in Humble, TX. Advertised as a four-loop, hard-packed dirt road course, we ended up with some surprises. All-in-all though, it was a great race and great fun.
So let's give you a recap.
I started out with ideas of a 5-hour finish time, but that wasn't to be in this race. Two big surprises made that goal unattainable, but those same surprises made it hard to be disappointed with my 6:52 finish time.
Surprise #1 was the course turned out to be much more trail than hard-packed dirt roads. Some parts actually resembled a motocross track for short spans. Others included deep ruts, 12-18 inch tall grass, huge mud puddles to detour around, patches of loose sand, and really narrow stretches bounded by heavy brush. The terrain definitely slowed me down.
Surprise #2 was the distance. Instead of 26.2 miles of trails, we got to do 28. That's right. It turned out each of those four loops was 7 miles instead of 6.55. The extra 1.8 miles was certainly a contributing factor to the slower finish time.
That said, the race was extremely well organized. Water stations at every mile with plenty of volunteers, water, and Powerade. At the turn around for each loop was also a well-stocked snack table with apples, oranges, bananas, peanut butter and jelly sandwiches, crackers and nuts. Portable bathroom facilities were available at the start/turn around, and two other spots along the course.
"Blessed is the one who does not walk in step with the wicked or stand in the way that sinners take or sit in the company of mockers," -- Psalm 1:1
My bib number for this race was 11, and as always, I searched for a Bible verse that corresponds. We didn't get to pick up our packets until race morning, so I couldn't do it before the race. But after the race, with all the surprises, Psalm 1:1 seemed fitting.
I realized how blessed I truly am, just to be able to run races like this is a blessing. Running has probably been the thing that kept me from walking with the wicked, or letting my heart turn black and hard. After Amanda's death, it would have been so easy to turn to the bottle, or drugs, or even murder. But instead, Jesus showed me a way out, and that was to run.
This race, with all its surprises and unexpected difficulties, in a lot of ways, symbolized my journey. It wasn't what I expected. It was a lot more difficult than I anticipated. At times it made me want to quit and take the easier way out. But instead of leaning on my own strength, I leaned on the strength that only comes from Jesus, that strength that keeps you going when all you want to do is quit.
I am blessed, regardless what any race or life throws at me. I am blessed because Jesus showed me a path that kept me from walking with the wicked. Some might have been upset with the surprises this race threw at us, but it's just another race that proves how much running parallels life. Yes. I am blessed. Blessed to run and blessed to live.
"Neither do people light a lamp and put it under a bowl. Instead they put it on its stand, and it gives light to everyone in the house." -- Matthew 5:15
I had the chance to tell Amanda's story too. On the second loop of the course, a woman was passing us and slowed down to ask about the sign on my back. In all our races, I run with pictures pinned to my back. It's a collage with Amanda's picture and several other young people whose deaths were in some way a result of teen substance abuse. There are overdoses, DUIs, violence associated with drug and alcohol abuse, and others. The pictures, along with their stories, are intended to draw attention to the dangers associated with teen substance abuse.
This lady, after hearing Amanda's story, told me she had a son who is a freshman in college. She said she would be telling him the story of Amanda's death this week, and believes it's more likely to hit home because it's a story of someone she spoke with, actually met, instead of just read about in a paper or online.
That's one of our major goals, to get parents to talk to their kids about the dangers when they or those around them lose their minds on drugs and alcohol. We hope and pray that somewhere, at least one will get the message and avoid a tragic death.
"Remember the wonders he has done, his miracles, and the judgments he pronounced," -- Psalm 105:5
A cool thing about the four-loop course was that you got to see people you wouldn't normally see. Faster people passed you (sometimes more than once), you passed slower people, and you met faster and slower people coming the other way. This gave me a chance to meet and talk to people I'd never have an opportunity to converse with on a regular marathon.
Besides the lady I mentioned before, there were others we met on the trail with interesting stories.
One lady who passed us toward the end told us she was 60 years old and how it's a miracle that she's even alive. She told us when she was born, her mother was hemorrhaging badly. The doctor delivered this woman, told the nurse to abandon her and try to save her mother. This now 60-year-old marathoner was tossed in a bassinet and left for dead at birth by the doctor. But she said an intern ignored the doctor's order and began working on her.
She told us she considers every day a blessing and her very life a miracle. I'd have probably never seen or spoken with her at a normal marathon, but this conversation was certainly a blessing to me.
Another interesting story of an older man who passed us on a narrow part of the trail. He wore a 50 States Marathon Club t-shirt and told us his amazing story. I can't exactly remember what brought it up, but he mentioned he was addicted to marathoning, but that it's a better addiction than the one he gave up.
He had spent time in prison years earlier. Busted for dealing cocaine, he faced a maximum sentence of 70 years when convicted. At the time, he thought that meant he was going to serve every day of that 70 years. He admitted he was "addicted to the needle" in those days and lived hard and fast. I never learned exactly what his sentence was, or how much time he actually served, but he did say it turned him off the drugs.
You never know what kind of people you'll run into at a race. All kinds of people take up the sport for all kinds of reasons. One thing's for sure though, there are a lot of very interesting stories along the course. Slowing down to learn a few can make for an interesting and educational race.
I'll close with a few pictures I took along the trail. There were more, but apparently AT & T couldn't get them from my phone to my email as quickly as I expected. Thinking they'd already sent, I deleted several from my phone while the message was still in my outbox.
Some of the best missing pictures are of 1) Janice poised to throw a rock at me on the course, 2) a sign in front of a large patch of loose sand warning of "dehydrated quick sand," 3) 2 little hills that looked like a double ramp on a motocross track (they didn't seem so little by the end of 28 miles.) There were some others too, but here's what made it through the airwaves to my email.
1) A picture perfect place to start the End of the World Marathon.
2) A few pics along the trail.
That's all the pics that made it through. I hate it that some of the roughest parts of the course weren't captured in these pics, but that's life.
"As iron sharpens iron, so one person sharpens another." -- Proverbs 27:17
I was blessed to run this race with my friend, Jesse Hardy, who challenged me to run my first marathon after Amanda's death. That challenge is what started me on the road to the Marine Corps Marathon in 2011, took my running to a whole new level, and really laid the foundation for this ministry. I believe God sent him to my home that week after I lost her to do just that.
Jesse and I ran MCM 2011 together. This was his 14
th
marathon and my 4
th
, but only the 2
nd
we'd run together. Running with a friend most certainly helps, and Jesse kept me going at times I wanted to quit. Yes, iron sharpens iron and a friend sharpens a friend.
We ended up finishing in 6:52, together. That wasn't so bad, given the extra distance, the fact the course was a trail instead of a road, and the fact we had the Day After the End of the World Marathon to run the next day.
That's right! We were signed up for double, back-to-back, 2 days in a row, marathons. That's what made us decide to walk the last 9 miles of this race, and really slowed us down. But it might have been the best decision I'd ever made in a race.
We finished the Day After the End of the World Marathon the next day, so I'll be posting a recap of that race soon too!
---
If you don't know Jesus as your personal savior, if you're missing the faith, hope, and love written about here, if you want the peace that we as Christians have in our lives, please visit our
Got Jesus?
page for step-by-step instructions on how to accept Jesus Christ as your personal Savior.