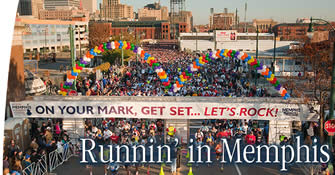 It's almost time!
Today is Wednesday, and the St. Jude Memphis Marathon is Saturday. Two more days and a wake up. Then we run.
God is so great! After three weeks without running a single step, He brought me back online from a tough knee injury two weeks before the race. Though I didn't run today, I've run enough these past couple of weeks to know that Jesus will carry me through the 26.2 mile race this weekend.
"I can do all things through Christ who strengthens me." -- Philippians 4:13
There is no doubt in my mind the race will be tough. The last long run I made was the Soaring Wings Half on October 27th. My pace is off by more than a minute per mile from where I was before the injury, but I'm running now with virtually no pain!
Training was going great and I was well ahead of schedule before I got hurt, but getting through Saturday's race won't be because of anything I have done. It will only happen...I'll only cross that finish line...by the grace and mercy of Jesus Christ!
My good friend, Jesse Hardy, said it best just before running his first ultra earlier this year, so I'm going to just adapt his quote a little to fit this situation. "I can't run 26.2 miles, and if Jesus doesn't show up on Saturday, it's going to be a short race."
"Jesus looked at them and said, 'With man this is impossible, but with God all things are possible.'" -- Matthew 19:26
So when you read my posts on Saturday to recap the race, just know that it wasn't my strength that got me through. It won't be any power of mine that keeps me going. It will not be courage or character or discipline or willpower that carries me through the race. There will be one and only one reason, one and only one way, one and only One who deserves the credit and the glory.
J.E.S.U.S.


Through it all, every grueling mile, Jesus Christ will be there to get me through and keep me pushing forward for the finish line.

Only two more days and a wake up.

I can't wait!
---
If you don't know Jesus as your personal savior, if you're missing the faith, hope, and love written about here, if you want the peace that we as Christians have in our lives, please visit our
Got Jesus?
page for step-by-step instructions on how to accept Jesus Christ as your personal Savior.