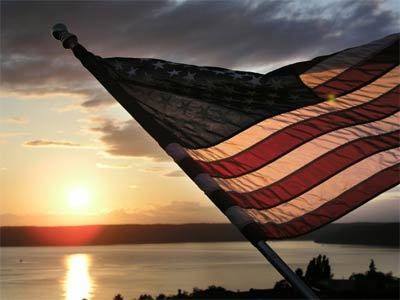 It was unlike most of my training runs. My run yesterday, Memorial Day, was special. Much slower with several breaks where we stopped and walked, or even stood around and waited. If I'd been running to beat a certain time, it would have been an epic fail. But time wasn't what we sought when we stepped off on Monday.
A year ago, I made my first run with the Cabot Country Cruisers. After seeing a post on their Facebook page announcing a Memorial Day run, I decided to join them. We ran from a local elementary school to the city's Veterans Memorial. The school is only a half mile from my house, so I trotted up there and embarked on what became the first of many group runs with the local running club.
That day a year ago there were 22 of us who made the trip in honor of those who gave everything to keep the United States the "Land of the Free." Runners varying in age from 20's to 70's with paces that spanned the spectrum from very slow to lightening fast. I pushed myself to stay somewhere in between.
I was proud to be a part of that group and to honor our veterans who sacrificed their lives. It was a great experience that introduced me to new friends who share my love to run. I've lost count now of the runs I've made with them, but we've often trained and raced together since that day.
2012 CCC Memorial Day Run
2011 CCC Memorial Day Run
One year later, yesterday, Memorial Day 2012, the Cabot Country Cruisers again made the trek from the school to the memorial. The number of runners, however, had multiplied. More than 3 times!
A few minutes before we began, a cursory count numbered 72 runners and walkers gathered in the parking lot. A few others trickled in after the count. Many carried American flags. Once again their ages spanned many decades. A young boy who couldn't have been much over 9 years old joined us this year, along with men and women who looked to be in their 70s and every where in between.
In spite of the heat and sun, already burning bright at the 8 AM start, those 70+ made the roughly 2.5 mile journey down the sidewalk to the memorial. The faster runners stopped several times to let those in the rear catch up so that we could enter the memorial en masse.
In a column that stretched several hundred yards, we crossed the road leading to the monument. It was a beautiful sight, runners and walkers of all shapes and sizes and ages sweatily paying tribute to the American men and women who fought and died for the freedoms so many take for granted.
After a short prayer and a few pictures, we broke into smaller groups and made our way back to the school. It was hot and humid, not what many would consider nice running weather. But everyone I saw had smiles on their faces. It was a great run, not to be judged by how fast or far we went. Instead, what characterizes this run as great was the company and the motivation to make it.
Thanks to all who've given their lives in defense of this great nation and the freedoms we hold dear. And thanks to all who joined us to honor those men and women at the Cabot Country Cruisers' annual Memorial Day run!
"Greater love has no one than this: to lay down one's life for one's friends." -- John 15:13
May we never forget to honor those who died to set us free--Jesus Christ and the American serviceman/woman. The first to free us from the tyrant Satan, and the second to free us from tyrants here on Earth. May God bless these United States and all who wear her uniform.
---
If you don't know Jesus as your personal savior, if you're missing the faith, hope, and love written about here, if you want the peace that we as Christians have in our lives, please visit our
Got Jesus?
page for step-by-step instructions on how to accept Jesus Christ as your personal Savior.