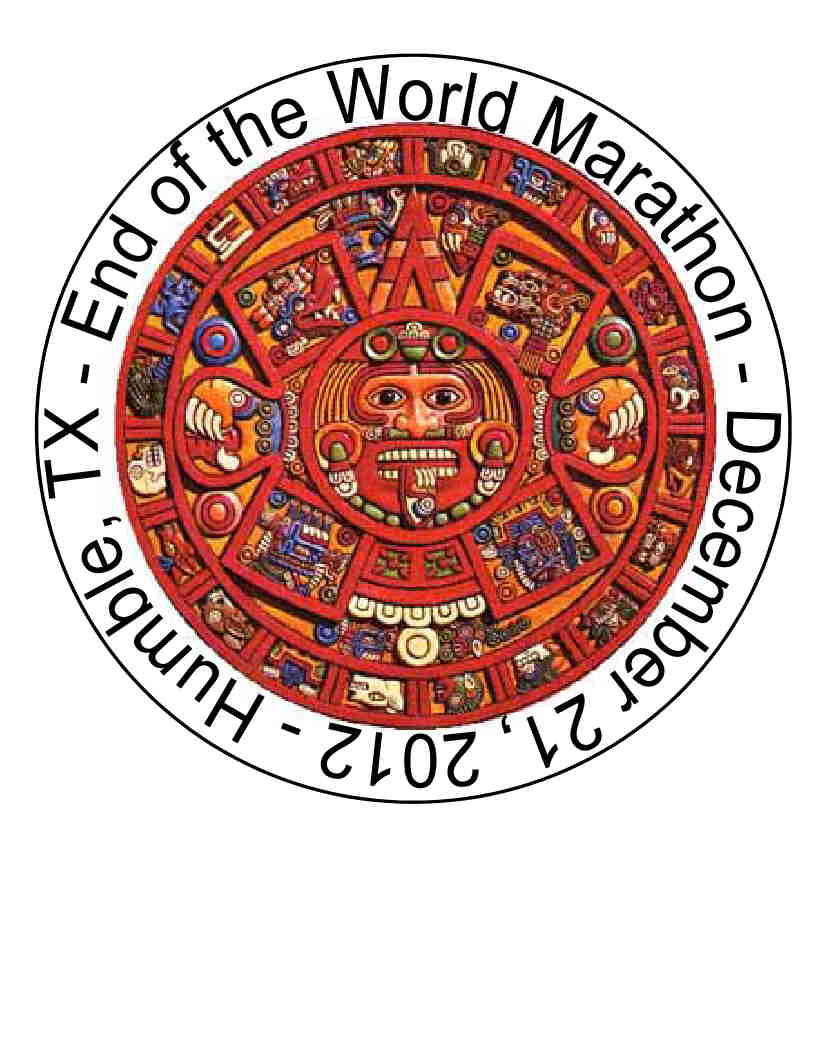 ...Marathon that is!
That's right! The End of the World Marathon is what I'm talking about...and the Day After the End of the World Marathon.
Most of you probably know someone who is making preparations for civilization's end on December 21
st
of this year. Supposedly, the Mayan calendar stopped on that day because it would mark the end of the world.
"For to me, to live is Christ and to die is gain."-- Philippians 1:21
Personally, the end of the world doesn't scare me. It worries me for others who I'm not sure are saved, but I know where I'm going. This world is not my home, only a temporary residence that I'll one day have to leave. Whether it's leaving as an individual, as part of a group, or with all of humanity, one day my time on Earth will be up. When it is, I'm going home, to Jesus, to Heaven, to paradise, for eternity. But I doubt any ancient Indian civilization had the date pegged. But just like last year when Harold Camping drove around predicting the end was coming then, there will be people who believe it.
I think there will be a lot of people cashing out their 401Ks, spending their life savings on lottery tickets, and taking dream vacations in the days preceding. Others will take the opportunity to live it up, party hard, thinking if the world ends they'll go out with a bang. But not everyone will be going out with wine, women, and song.
Some folks down in Humble, TX have decided there's no better way to go out than to run a marathon! On Friday the 21
st
, at 8 AM, runners will hear the gun and step across the starting line at the
End of the World Marathon
.
Personally, I don't believe the world will end that day, but running this event is going to be a once-in-a-lifetime opportunity. So I signed up. As a Christian, I believe the Bible when it says we won't know, we won't be forewarned, we won't have an idea when the end of the world is coming.
"1 Now, brothers and sisters, about times and dates we do not need to write to you, 2 for you know very well that the day of the Lord will come like a thief in the night."--1 Thessalonians 5:1-2
In fact, I'm so confident the world will keep spinning after the 21
st
that I signed up for the
Day After the End of the World Marathon
too! This race will take place at the same location, exactly one day after the first.
People think I'm crazy for signing up for back-to-back marathons in two days, but I have friends who have done it and others who've gone more miles than that in one race. Several friends in the Cabot Country Cruisers have run two marathons in two days, and my friend Jesse just ran a 62 mile race a month ago!
Besides, it's not about ME having the strength to do it. It's about letting Jesus Christ show His strength and power by helping me through it!
"I can do all things through Christ who strengthens me."--Philippians 4:13
Just like everything else, I've got to put it in His hands. Jesus gives me the strength, determination, ability, and motivation to put in the miles I do every week. Without Him, I'd have quit long ago. I'd have never made it through my first marathon, let alone have the confidence to sign up for two marathons in two days.
So bring on the End of the World Marathon and the Day After the End of the World Marathon! Running with Amanda will be there--before, during, and after!
---
If you don't know Jesus as your personal savior, if you're missing the faith, hope, and love written about here, if you want the peace that we as Christians have in our lives, please visit our
Got Jesus?
page for step-by-step instructions on how to accept Jesus Christ as your personal Savior.
---