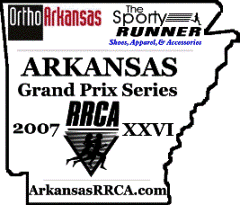 God is so great!
A couple of years ago, Janice and I were getting ready to run a race in Little Rock. My mother asked me what time I was shooting for. I told her I hoped to run it in less than 25 minutes. Well, I didn't come close. In fact, I hadn't come close to breaking 25 in all the 5Ks I've done since then. Until today!
That's right. Today God blessed me with a great run and my best 5K time ever. I finished the 3.1 miles in 24:24.86!
The course was on the paved trails of the Bona Dea Wildlife Sanctuary in Russellville, Arkansas. To ease crowding on the course, the start was broken into four separate divisions that began 30 minutes apart. Male masters (men 40 and over) began at 9:00 am, female masters at 9:30, female open (39 and under) at 10:00 and male open at 10:30.
We arrived about an hour and a half early because I can't stand to push things to the last minute. Especially when we're racing a good distance from home, I like to leave early enough so that if something goes wrong, we have time to deal with it.
"I have told you these things, so that in me you may have peace. In this world you will have trouble. But take heart! I have overcome the world."--John 16:33
The temperature was hovering at a miserable 22
0
when we pulled into the parking lot and a stiff wind made that feel even worse. I left Janice in the Blazer and went to pick up our chip and t-shirts. I was freezing by the time I climbed back into the vehicle to get ready.
The finish line was only a few yards from the trailhead and close to the parking lot. But the starting line was out of sight down the trail. As 9:00 am approached, I fell in with others heading down the trail toward the start. I'm not sure exactly how far it was, but somewhere around a quarter of a mile is my guess.
By the time I reached the starting line, I was questioning my sanity as the cold chilled me to the bone. I hopped, stretched, and moved just about every way I could to try to warm up a little while waiting for the official start. Nothing worked. It was just too cold!
When the horn sounded, we were off on the narrow trail. It was only then that I fully understood the need for the staggered start. There were only 80 or so of us older men in this first wave of runners, but the trail would definitely have been overcrowded at the start if we'd taken off with the other runners.
Thankfully, there was plenty of room and little congestion. I can't tell you exactly how fast I took off because my Garmin just came back this afternoon (after the race!) But I can tell you I poured it on at the start, not wanting to get caught up in traffic. There were still plenty ahead of me, but also plenty behind.
After a quarter mile or so I backed down a bit. I paced myself with with a guy that kept a few steps ahead of me through the first mile. Not sure how fast we were running, but it was a pace that was difficult but manageable to maintain. Just past the one mile mark I passed him for a little while, but that didn't last long.
It was only 100 yards or so after I passed him that he came by me again and I trailed a few yards behind him again until about mile 2. By then, the pace was wearing on me. Several times I thought about stopping for a few seconds to walk and catch my breath. Actually, I was longing for a water stop so I could walk a few steps to drink.
"Therefore, since we are surrounded by such a great cloud of witnesses, let us throw off everything that hinders and the sin that so easily entangles. And let us run with perseverance the race marked out for us,"--Hebrews 12:1
But there really wasn't a need for a water stop on such a cold, short race. I never got my excuse to stop and walk, so I just kept running. After mile two, though, my pace began to fall. The man I'd been using for a pacer began to pull slowly away. By the time I reached the three mile mark, I was only catching glimpses of him on the twisting trails.
The last tenth of a mile came a little easier, especially when I got close enough to see the clock hadn't yet reached 24 minutes. I knew then I was going to break 25 and found a little wind. Holding a good pace through the chute and across the finish line, I crossed at 24:24.86, a 7:52 pace per mile!
"I can do all things through Christ who strengthens me."--Philippians 4:13
There is no doubt in my mind, not even one little bit, that God gave me the strength to push through and improve my time. I tried too many times, for far too long, to do it on my own and failed to get the results I sought. He is showing me daily that I really can do anything if I do His will to glorify Him. Jesus will give you the strength you never thought you had and carry you through more than you ever thought you could endure!
Thank you Jesus for everything you've done for me today, and every day!
---
If you don't know Jesus as your personal savior, if you're missing the faith, hope, and love written about here, if you want the peace that we as Christians have in our lives, please visit our
Got Jesus?
page for step-by-step instructions on how to accept Jesus Christ as your personal Savior.
---